It is unbelievable what gradschool can do to you.I mean, to people like me.I really cant believe I had "reply to mails" and "blogging" in my to-do list today!!!!For the uninitated,there was a point in time, where these were the sole purposes of my existence, and of course chatting too!!!!
Anyways,this weekend we took a trip to the Smoky mountains,Tennesse and North Carolina.It was a six hour drive down there.Hiking,barbeque,white water rafting ,Ripleys Believe-it-or-not museum and of course,millions of snaps were some predictable highlights.The Back-to reality monday saw me struggling to manage work,classes,assignment and sleep backlogs.But after a hours and hours of sniffing and encryption,I finally found the time to come back the routine mode.And do laundry,ironing, making India calls,replying to mails, and now of course blogging.(Only to go back to more of sockets, and digraphs and Active client mode soon,but i'd rather overlook that part,for now atleast!)
White water
rafting
is the most amazing thing ever.We rafted down three class IV bends , and we surfed up one,three times.(There are class I to VI , class V being dangerous and class VI being un-navigable!!!!)Of course,the scary part was when you think you will fall off the raft on the next class IV, but that was part of the fun too !!! Ripleys Musuem had some real amazing artefacts, like a shrunk-skull(I can hear people shout Eeeks!!! that is so Mulder-ish..but Yay!!!!) and a man who sculpted himself. He wanted it to be as close to real life as possible, and hence the sculpture has the mans own hair,toe and finger nails and even TEETH!!!!!Barbeque in the night was fun,I got to learn make some real nice coleslaw and some sort of capsicum-pineapple-onion sticks(which btw, wasn't too popular considering the abundance of beef around!!!).The trip also had a hike to laurel falls(which of course wasnt worth the God knows how many miles of trekking!!) and another trek upto the "Clingman's Dome".The entire adventure is recorded
here
.Heres a sneak preview.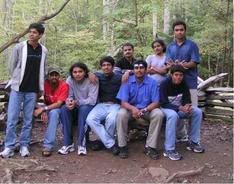 I know the post sounds very abrupt,but so have I,lately.This post was originally about something widely different from what it is,but when Mani, in a sudden sprint of energy, uploaded ALL the snaps, I knew I had to write something about the trip.A real post tommorow.Till then adieu folks!!!Btw, It feels nice to know people check on you for regular updates, and even demand one when you are in this oh-what-do-I-write moods!!!!!