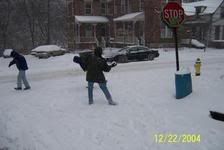 It was a snowy day.As she got up and looked out of her 9th floor penthouse,she could see the entire city,clothed in holiday white. Struting around in pyjamas, she curled up in a chaise lounge,nibbling at scented chocolates.
Oh damn,I must make a very terrible M & B author.
I didnt get snowed in, I didnt get involved in a steamy snow fight with a dashing hero, damn well, I wasnt even around to see the whole thing. I was some sunny 509.76 miles away from it all.Went around
UMCP
today, and wonder of wonders,bumped into a 2000 batch BITSian !! Well, as they say, you are never far from home!!!
Blogging is fun,but then,an extended holiday with family(or atleast a part of it!!),cooking,hogging,marathon conferencing,movies,calls,and of course the usual chatting and scrapping,delays posts on the
Greyhound
Journey or a Clive Cussler book review.
Oh damn, I am not a very good suspense author either !!!